BURLESQUE
To watch my burlesque showreel click here : DEVA MEDUSA
To watch my full burlesque performances, click here :
I am performing and singing in different burlesque cabaret theatre shows and event in Amsterdam. The name of my burlesque character is DEVA MEDUSA. She is a dark, instinctive, and powerful character. She is also grotesque and absurd because she represents the guilt resulting from the vain exaltation of desires. Medusa symbolizes the distorted image of self that petrifies with horror. With my numbers I involve the public in something deep and dramatic while remaining in a funny burlesque way. Deva Medusa has also two faces, a mal and a female one and she metamorphoses self in a man or a woman body.  She is a mirror who shows the complexity of our imagination comming from a guilty pleasure.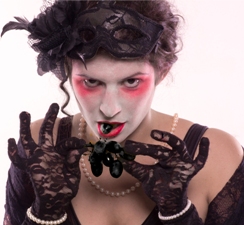 Extracts from Deva Medusa's repertoire:
Edith Piaf : La vie en rose, l'accordéoniste, l'homme à la moto,
non je ne regrette rien, je t'ai dans la peau.
Jacques Brel : Dans le port d'Amsterdam (in french and in german version), le plat pays.
Nat king Cole: L.O.V.E, Natural boy (in english).
Charles Aznavour: La bohème.